Sustainable Practices
At Reitmeier, we think big. Some people think we have our heads in the clouds, but everything that we're thinking about up there has practical, sustainable implications down here on earth. Because if we can find a way to minimize our impact and bring balance to our environment, why wouldn't we?
Balance
As a service-provider, Reitmeier's ultimate goal is to bring balance to the environment of our community. We are invested in creating the right solution for our customers, and saving you much-needed time, energy, and money by maximizing the life of your HVAC equipment.
Today's HVAC systems are incredibly complex, and are designed to interface with energy saving devices and software that control your building's equipment efficiently. We've empowered our team to design and execute industry best practices to ensure that your HVAC operates with ultimate efficiency, reducing your impact on the environment and, ultimately, lowering your annual operating expenses. Reitmeier is uniquely qualified to design and install HVAC solutions for commercial LEED projects, and is dedicated to meeting sustainability goals with each of our services.
Leading the Way
At Reitmeier, we strive to achieve sustainability in everything we do. Our mission of "balance" extends to our company practices and their impact on the environment. We're committed to exploring all avenues available for the recycling and use of green building products, and relentlessly seek technologies that expand our ability to utilize all sources of renewable energy.
Sustainability weighs into every decision that we make. And it's the driving force behind our approach to resource lifecycle management. At every step of our process, Reitmeier diverts waste from landfills and incinerators, minimizing the impact that our products and services have on the community. In everything we do, the Reitmeier team makes a conscious effort to bring balance to our clients' environment – while protecting, preserving, and promoting the one that we share.
Air filter recycling
In 2015, we began recycling all of our air filters. With our new system in place, zero percent of our clients' filters end up in a landfill or in their on-site dumpster.
Reitmeier Environmental Policy
Click here to download the Reitmeier Environmental Policy and learn why Reitmeier sets the bar for sustainable practices.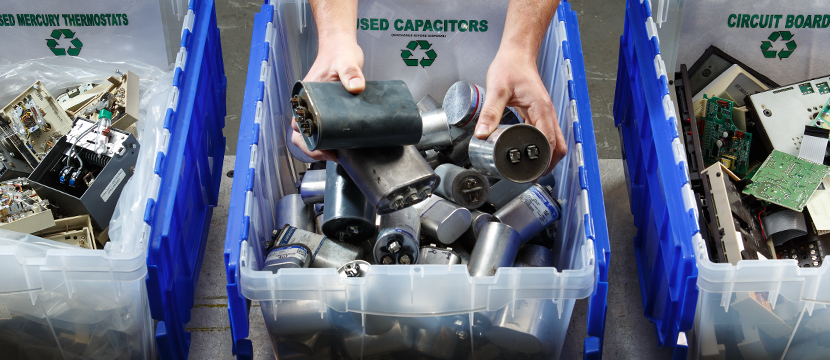 In 2009, Reitmeier relocated, and the new headquarters were designed to embody our commitment to sustainable practices. During redesign and construction, we implemented green building techniques focused on energy efficiency, construction waste diversion and material reuse to achieve LEED Silver certification. We made a priority of sourcing regional building products made from recycled content or rapidly renewable materials with low VOC content. As part of our commitment to sustainable practices, Reitmeier signed a two year contract with Portland General Electric (PGE) for Green Source Power, opting to offset 100% of our electricity use with renewable energy.
Pay a visit to our headquarters and you'll see that our commitment to sustainability extends beyond the products and services we provide to our clients. We practice what we preach, and continue to push the envelope with innovative HVAC systems and solutions that conserve energy and bring balance to our environment.
Want to learn more about how Reitmeier can bring sustainable practices to your HVAC operations? Contact us today!