HVAC Design/Build
At Reitmeier, we believe in building the right HVAC solution, the very first time. And the right heating and cooling design/build solution is formed by the unique needs and motivations of our customers.
Reitmeier's HVAC design/build process starts by finding out what's most important to you. We conduct comprehensive customer interviews to understand goals, concerns, priorities and budget before initial HVAC system concepting begins.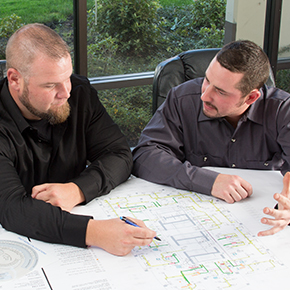 Our heating and cooling team takes pride in HVACbuilding projects that meet the specific needs of your environment and on executing to intended specifications and within budget. We strive to continuously meet and exceed customer expectations with our innovation and flexibility.
With our proprietary pre-installation process, Reitmeier engineers the performance of your HVAC system. Our expertise and modeling capabilities mean we're able to predict results right down to energy consumption and cost savings – so we can tailor your design/build solution to meet your unique needs.
Whether a new construction or building improvement project, Reitmeier works with general contractors, property owners, architects  and engineers to provide value added, cost efficient HVAC services.
Our heating and cooling design/build services include:
Sheet metal fabrication and installation
Pipe fabrication and installation
Project management
Reitmeier's highly-skilled team has experience and expertise in systems design, project management and in-house CAD capabilities, creating a substantial cost and performance advantage for our customers.
Interested in learning more about how Reitmeier can design and build the right HVAC solution to meet your needs? Contact us today!